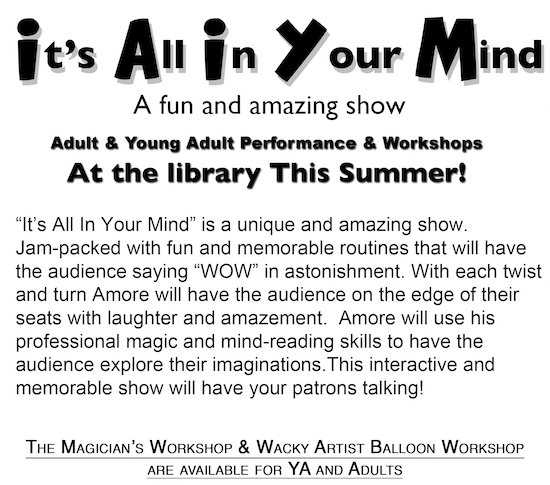 ---

PHENOMENON (Mentalist Show)
PHE•NOM•ENON (F∂ NÄM´∂ N∂ N) NOUN
1. Something experienced; a fact or occurrence that can be observed. 2. Something notable; something that is out of the ordinary and excites people's interest and curiosity. 3. A remarkable person or thing. 4. A new and exciting show created for the sophisticated expectations of an adult audience.
Running Time: 60 to 80 minutes
Do you believe in ESP and power of the mind? For instance, is it possible to foretell the future, move objects with your mind or read someone's thoughts?
The answers to these and other questions can be found in Amore's show titled Phenomenon.
An exciting show created for the sophisticated expectations of an adult audience. Phenomenon is a presentation of profound and unbelievable events in a fast-paced, fun format.  This one of a kind performance will make the audience the stars of the show. Amore utilizes the audience throughout the performance for astounding demonstrations of the mind and body incorporating psychology and parapsychology, body language, power of suggestion, hand writing analysis and misdirection. Predict lottery numbers, foresee the future, read people's minds, see a demonstration of the human lie detector, sightless vision and more. Experience Phenomenon and you will believe.
Phenomenon is a show that challenges an audience to discover the power of their own minds.
"The show is excellent and he really boggles your mind."–Tom DeRosa Manahawkin, NJ

"He was able to name my best friend, who he has never met before.  He is so amazing; he just pulls truisms out of the air.  I mean, how can he know these things?"–Fran Everson, Senior Librarian Ocean County Library
"M A G I C I A N among the S P I R I T S" (GHOST SHOW)
Running Time: 60 minutes
Mentalist Amore brings you unexplained events and demonstrations from the Victorian era.
Witness a recreation of a 19th century séance, experience a first hand account of the Spirit Cabinet, your questions will be answered by the "Mystic Oracle" and a special guest from the other side will assist during the performance.
Featuring:
The Oracle Act a mediumistic question and answer demonstration
The Spirit Cabinet
Table tilting and floating

Come prepared to be part of a show that will amaze, mystify and leave you a bit unnerved.
THE SECRETS OF HYPNOSIS CAN BENEFIT YOU
An educational and entertaining look at an amazing phenomenon.
This popular and intriguing lecture program is now available for your library, school or business or private organization.
Running TIme: 60 Minutes
Mention hypnosis and many conjure up an image of a watch swinging slowly back and forth before someone's eyes. Suddenly they drop off into a hypnotic state! This simple description does not even begin to explain the depths of hypnosis and how it can help one attain anything in life including: Financial success, weight loss, stop smoking, enhanced sports performance, health and vitality, relaxation, stress reduction, obtain a more powerful memory, boost self-confidence, and relief from phobias.
Amore is offering this one of a kind lecture as a way to help people understand what hypnosis is and how it may benefit them. This program has been created to inform and educate the public to the benefits of hypnosis.
This program will cover the following topics:
What is hypnosis and how can it help you, the historical roots of hypnosis, various uses and techniques, who can be hypnotized, the difference between stage hypnosis and clinical hypnotherapy, the role of the hypnotist, suggestibility tests, the brain and hypnosis, self-hypnosis relaxation techniques, induction methods, internal dialog, how to find the right hypnotherapist, self-help audio tapes and hypnosis as a career.
Amore has been performing hypnosis shows around the globe since 1987. He has earned a doctorate in clinical hypnotherapy and is a certified instructor of hypnosis. His education and experience allowed him to star in the top selling videotape "The Secrets of Stage Hypnosis Revealed," and he is the author of "Cluck Like a Chicken, Bark Like a Dog".